Heartbeats
Postmortem - My thoughts after the game jam
---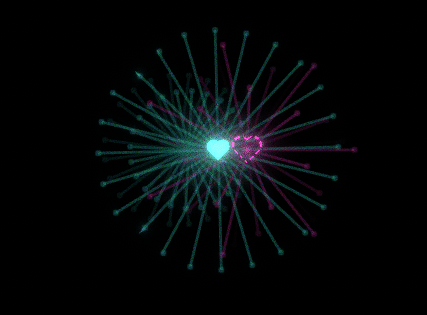 The game jam officially ends yesterday. Congratulations to every participant!
I am really surprised of the number of ratings (69!!!) I got for Heartbeats. The game got an average of 4+ stars in every category except for fun. I think, objectively, the game was too easy and the fact I introduced some open world levels frustrated some players because of the core mechanic. I spent unfortunately too much time in creating the game mechanic and the level components compared to the level design.
Moreover, the game got streamed 6 times! This is amazing. I participated to many game jams before but this is the first time I got so much traction on my entry.
Let me share some fun facts
The average playtime per player is 245 seconds (~4 minutes). 18.9% of players finished every level of the game!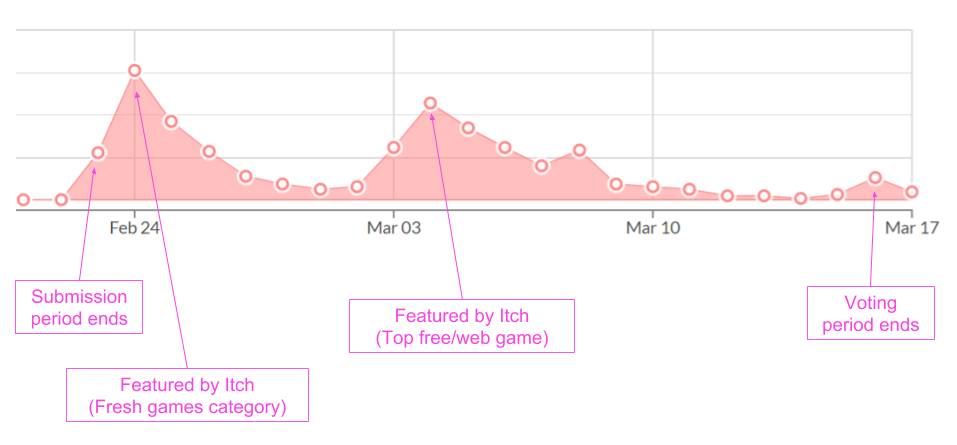 Views graph


Itch's homepage on February 24th
Why did Heartbeats go better than my previous game jam entries?
My assumptions are:
Heartbeats is a solo, easy and accessible game
It was deployed to 3 platforms (Web, Windows, Mac)
I spent relatively a lot of time in editing the Itch game page (logo, background image, gifs...)
Heartbeats was on Itch home page for few days (!!!)
I played, rated and left non-generic comments on other participants entries (50+)
What's next?
I am planning to work more on it and improve some parts of the game that were pointed by some players. You can expect a release of a more polish and complete version soon :)
If you are interested to try some early builds and be part of improving the game, follow my itch profile or ...

Special thanks to:
Everyone who tested/gave some early feedback on Heartbeats
Everyone who took the time to play, rate and leave a comment about Heartbeats
Every streamer/youtuber who covered my game (if I missed your name, please contact me :)): TigerJ, SirAeron, Cryptic Hybrid, Tigerwaw, MrQuallzin and La.
Game jam organizers
Files
Heartbeats_1.0_webgl.zip
Play in browser
Feb 24, 2019
Heartbeats_1.0_win.zip
24 MB
Feb 23, 2019
Heartbeats_1.0_mac.zip
27 MB
Feb 23, 2019
Comments
Log in with itch.io to leave a comment.
Nice analysis, thanks for sharing.
Thank you for reading it and leaving a nice feedback!
I will definitely keep on sharing some insights to the community! :-)